Kentucky has always been famous for bourbon, but it's come a long way from the notion of "backyard moonshine."
Today, bourbon is more sophisticated and in-demand than ever. Distilleries combine art and science to cultivate the rich flavors of America's only native spirit, amidst the most beautiful scenery in the Bluegrass State.
In our latest post, get details on 3 Kentucky bourbon distilleries making headlines in 2017, including a limited-run display of Chihuly art, and bourbon corks with a fascinating tie to our 16th president.
World-Class Art at
Maker's Mark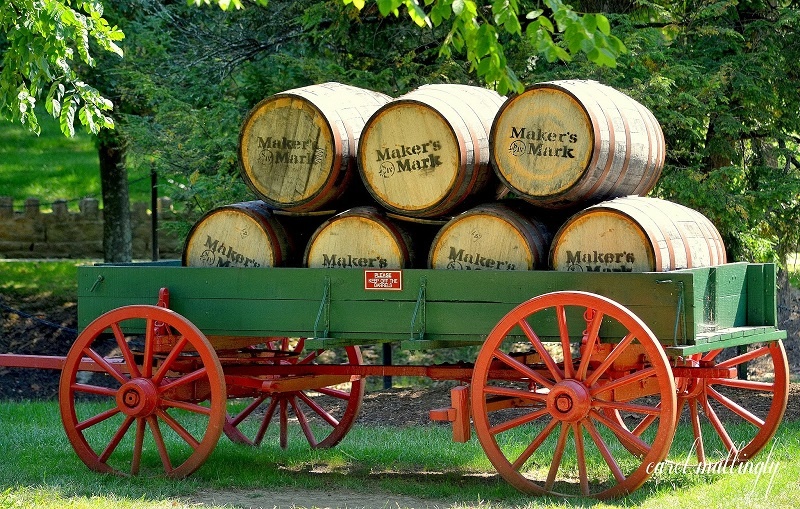 Nestled along Whisky Creek, Maker's Mark has arguably the most beautiful distillery grounds in Kentucky. Informative tours provide an up-close and personal look at how this bestselling bourbon brand is made. Guests can walk the grounds of the distillery and warehouses, taste samples in a well-appointed tasting room, and even hand-dip a bottle in their signature red wax to take home.
Now, you can enjoy bourbon with a side of world-class art.
RT @Bourbonrcom: Maker's Mark Unveils Exclusive Exhibition by Dale Chihuly https://t.co/gAj42iY7Ws pic.twitter.com/qR5laAMsnM

— Maker's Mark (@MakersMark) July 7, 2017
In celebration of Maker Mark's 60th anniversary in 2014, world-renowned glass-blower Dale Chihuly was commissioned to create The Spirit of the Maker - a whimsical canopy of form, color and light that's permanently installed atop the historic barrel room. The piece contains 750 hand-blown glass elements in green, blue, amber, and of course Maker's Mark red. The sun's rays cast the entire room in dazzling reflections of every color.
Experience the art of @ChihulyStudio on the grounds of our historic distillery this July-October: https://t.co/ofiC91lsd0 #ChihulyAtMakers pic.twitter.com/ZfvpPBeHYC

— Maker's Mark (@MakersMark) July 15, 2017
This past week, Chihuly announced the permanent installation will be accompanied by additional pieces for a very limited time. This temporary exhibition, known as "Chihuly at Maker's", contains seven dramatic pieces placed throughout the distillery grounds. Each piece combines ice, water, glass and neon to create unforgettable works of art that complement the site's iconic landscape and architecture.
Get the most out of your visit with a meal at Maker's Mark's new farm-to-table restaurant, Star Hill Provisions, where each dish is chosen and prepared specifically to harmonize with bourbon. Then top off your visit with tickets to "Chihuly Nights," a celebration of the new installments under the stars, lit up as if they were on fire.
The exhibition will only be on display from July through October of 2017, so don't miss your chance to see these amazing works in person!
A Piece of American History at
Boundary Oak
In Hardin County, Ky., the birthplace of President Abraham Lincoln, lies a small distillery called Boundary Oak. It began producing bourbon in 2014 - 124 years after the last drop of liquor was produced in the entire county.
The master distiller, Brent Goodin, has developed a very limited number of bottles of bourbon that he has named "Lincoln Spirits", and here's the amazing reason why.
At Lincoln's birthplace in nearby LaRue County lies an oak tree known as"the last living link" to our 16th president. The tree was one of the boundary markers on the farm where he was born, and thus came to be known as the "Boundary Oak." Over time, as limbs fell off and the tree had to be trimmed, the pieces would be saved to make gavels that have been presented to Supreme Court Justices, Governors and Foreign Dignitaries. What else?
In conjunction with the Lincoln Museum, corks used atop Lincoln bourbon bottles are made from this tree!
As you can imagine, availability is incredibly limited. In fact, when they held an auction for the rights to purchase the first bottle of Boundary Oak bourbon - sight unseen and not yet even barreled - it sold for over $28,000, the highest-ever price paid for a bottle of American whiskey.
Along with the historic cork, the bourbon comes in a handcrafted case along with Lincoln's signature laser etched in, along with a replica of Lincoln's liquor license (the only president to have one), his silhouette, and the story of the Boundary Oak.
Coming soon.. #bourbon #whiskey #abelincoln #lincoln #boundaryoak #distillery #history pic.twitter.com/vDwDXOyTID

— Boundary Oak (@Boundary_Oak) March 14, 2017
The distillery also features specially-packaged bottles featuring other Kentucky historical figures and military figures, including Gen. George Patton.
The Frenzy Continues at
Pappy Van Winkle
No review of 2017 bourbon trail hotspots is complete without mention of Pappy Van Winkle, a brand that has been at the very top of cult status for years. Originally born at Stitzel-Weller Distillery, the bourbon is now made at Buffalo Trace in Frankfort, Ky. It blends the smooth flavors of corn, wheat and barley malt with charred oak barrels according to Van Winkle's exclusive family recipe.
Entire communities are devoted to finding the prized drink (see: www.pursuitofpappy.com)
In April this year, the oldest Old Rip Van Winkle ever - 25 years, well beyond the typical aging period of at least 4 years for straight bourbon - went on the market. The release contained just 710 bottles at 100 proof. The special release comes with a limited-edition, engraved Scottish decanter with glass stopper. Even the box is fashioned down to the details, packaged in handmade wood with an oak lid constructed from the 11 barrels that held the bourbon for a quarter of a century.
With bourbon enthusiasts paying $100 for a shot, $400 for a glass and $2000+ for a bottle, it's simply the most sought after bourbon in the world.
Where will your passport on the Kentucky Bourbon Trail take you?
When you're planning travel incentives, you want to choose destinations that speak to the interests and personality of the group. Are there bourbon enthusiasts among your top performers, big clients and other VIPs? Winspire Experience Agency can brainstorm and implement the perfect incentive trip to meet your needs.