We recently wrote about the advantage of permitting plus-ones on corporate incentive trips. These days, more and more companies are using family-oriented incentives to motivate those most important to their business.
One enchanting excursion sure to delight kids and adults alike: a trip to Santa's house at the North Pole.
Okay, it's not actually at the North Pole—but the Kakslautten Arctic Resort in pristine Kakslautten, Finland is the closest you'll find. In this family hotel, guests observe the northern lights from the comfort of glass and snow igloos, visit Santa's Celebration House, relax in log chalets and cabins, and much more.
Read on to send your VIPs on an unforgettable Arctic adventure.
Pristine Arctic Wilderness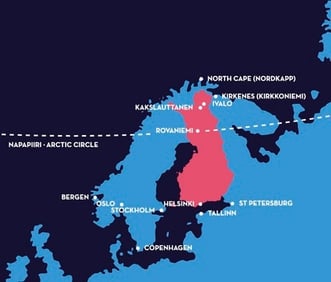 Located at the edge of the wilderness, Kakslautten is a small city in the Finnish portion of Lapland, a vast geographical area in the far north of Scandinavia along the road to the Arctic Sea. Lapland is at a latitude of 68° N; the optimum viewing window for the Northern Lights is between 65° and 75° N latitude.
It borders the Urho Kekkonen National Park, Finland's largest national park. Home to the indigenous Sámi people and rich in fells, rivers, reindeer herding and more, the area is known for its untouched beauty. The water, for example, is pure enough to drink straight from the streams and lakes.
Ivalo Airport is 30 minutes away from the resort; there are daily flights from Helsinki International Airport operated by Finnair and Norwegian Air to Ivalo, as one of the safest countries in the world, Finland is an easy, secure choice for a successful incentive destination.
Kakslautten Arctic Resort
The hotel has been advertised in Travel + Leisure and Conde Nast lately thanks to its many options for bucket-list lodging.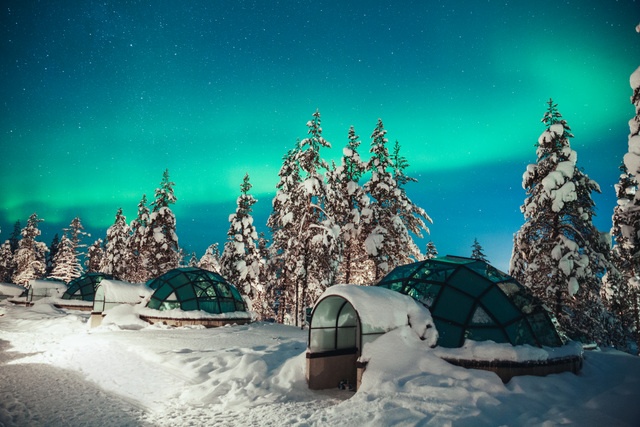 First is the glass igloos, an enclosed dome of thermal glass through which 2 to 4 guests can admire the northern lights and bright starry sky. Newly built 6-person Kelo glass igloos offer the same sensational views along with a private sauna, fireplace, kitchenette and bedroom - the only kind of this accomodation in the world.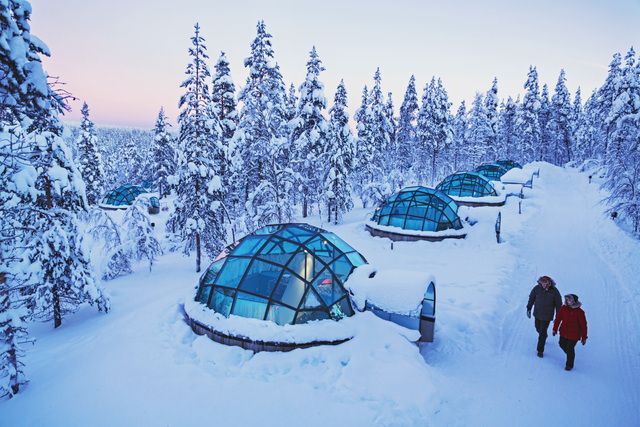 Another option: snow igloos. The temperature is kept at an ice-cool 22°F to 27°F. Cozy down sleeping bags are provided to stay comfortable all night long, as temps dip well below zero. Best of all, the snow muffles out virtually all outside noise to offer guests an unbeatable night's sleep.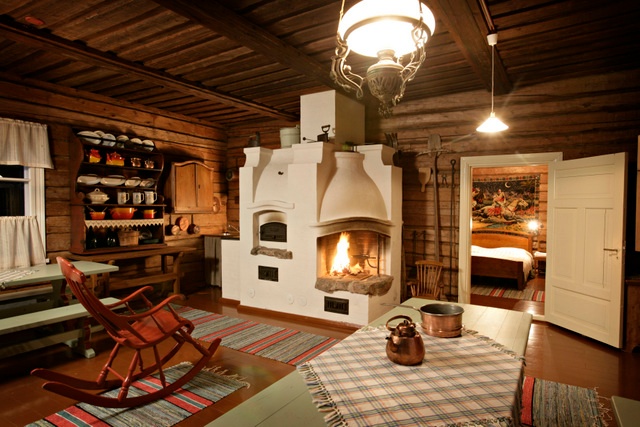 Charming log chalets, suites and traditional homes are offered for one to ten people. Amenities include saunas, fireplaces, bath tubs, outdoor Jacuzzis, rocking chairs and more. Nearly all decor and furniture was created by local craftsmen.
In addition to lodging unique to Kakslautten, the resort offers enchanting artic experiences year-round. Most popular is viewing the Northern Lights from late August until April. From December to mid-January, the sun doesn't rise for weeks and the temperatures hover around -22°F. Yet it's not pitch black outside, thanks to the magical glow of the Lights. Guests are immersed in a truly unique experience of pure snow, soothing silence and the Aurora Borealis.
On the other end of the spectrum, summer brings a surreal feeling as the Midnight Sun lights up the sky 24 hours a day. Even through August, the sun rises at 3:30 am and sets at 11pm. Canoeing, hiking or biking in the middle of the night will be an unforgettable experience for your VIPs.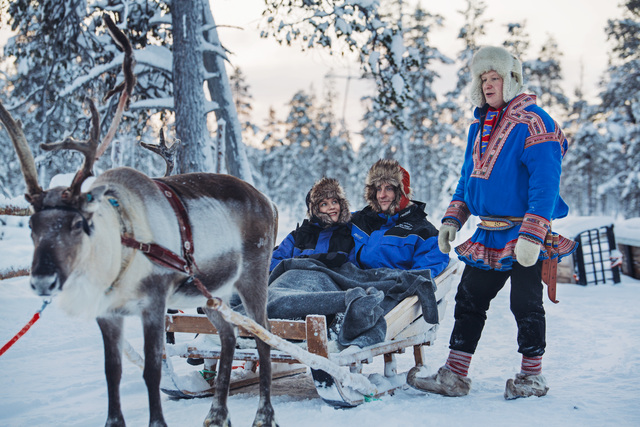 Activities include reindeer sleigh rides, husky safaris, panning for gold, cloudberry and porcini mushroom picking, horseback riding, icebreaker cruising, traditional Finnish ice fishing and world-class cross-country skiing. You can experience an authentic Finnish sauna, rent a snowmobile or even drive a snow tank. The resort features local sculptures, paintings and tapestries that put the finishing touches on fully unique accommodations.
Santa's Celebration House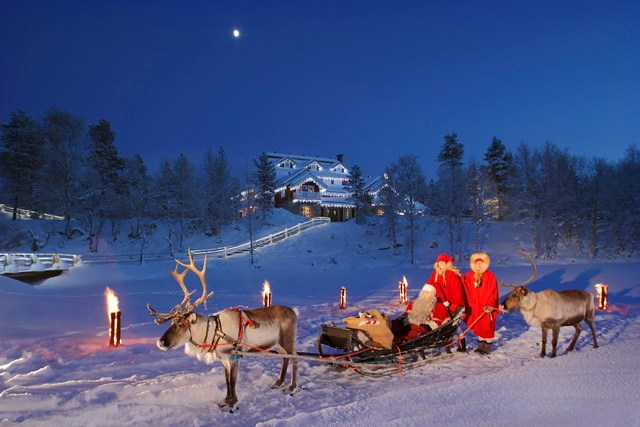 At the edge of Kakslauttanen, in the heart of the forest, awaits a once-in-a-lifetime trip to Santa's realm. Mrs. Claus greets visitors by the reindeer fence, then takes them over a wooden bridge to Santa's intricately crafted, idyllic red chalet known as "Santa's Celebration House". (Keep your eyes peeled for elves on the way!) As the doors open, families are greeted by Santa himself!
As far as unique and lifelong memories go, few will be as cherished as the moment little ones meet Santa in person.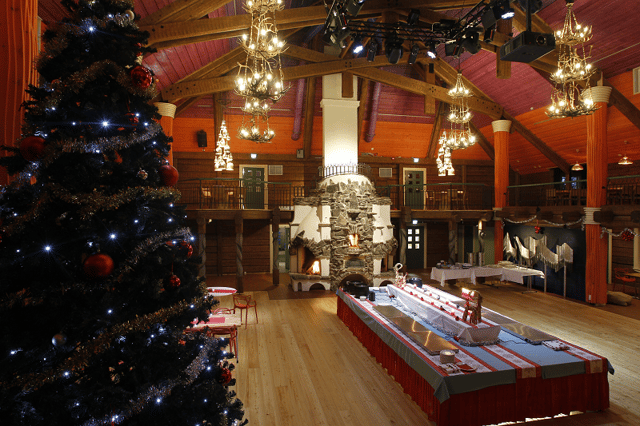 Families enjoy plenty of pictures and time getting to know St. Nick, a large sparkling Christmas tree year-round, and warming hot cocoa. The house itself is the largest log building in Finland, accomodating over 250 people at a time for dining, weddings, concerts and more. It's also fitted with state-of-the-art audio-visual equipment for corporate events like product launches. Finally, the staff is equipped to serve guests in a variety of languages.
Send your VIPs to Enchanting Finland
Think your top employees, big clients and more would be interested in taking loved ones on a trip to Kakslautten Arctic Resort, meeting Santa, and witnessing the incredible spectacle of the northern lights?
Winspire can help coordinate one of the most memorable trips your VIPs will ever experience. We can arrange activities, meeting space, lodging, transportation, and all other details to get the most out of your Arctic adventure.
For more information on this incentive trip or to brainstorm similar ideas, leave a comment or click below.
All photos provided courtesy of Kakslauttanen Arctic Resort.